Sunday, May 15, 2022
On the 15th of May, we had a ceremony called groundbreaking for our convent at Gajirvita. This is a term used in Bangladesh when a new house or building; it starts with prayers and blessings. It was a historical event for the mission of Bangladesh.
We left Dhaka early in the morning and reached Bishop's House at 9:00 am. Bishop Ponen Kubi, CSC, Bishop of Mymensingh Diocese met us and we had breakfast together. Thereafter, we left the Bishop's House for Gajirvita. We reached Gajirvita around noon. We found a group of people waiting for us. They welcomed us with songs and flowers. Bishop Ponen did not want to wait long and requested that we began the ceremony as people needed to go back to their villages.
At the beginning of the ceremony, Sr. Chitra spoke on behalf of our Congregation. She expressed gratitude to Bishop Ponen Kubi for his assistance and generosity and for allowing us to work in his Diocese. She also thanked the priests and the Catholic community for accepting and welcoming all. In her thanks, she also included Mr. Nurul Amil, the architect and engineer of the construction company.
In his speech, Bishop Ponen Kubi basically spoke about the "Laudato Sii" Sunday. He talked about the beauty of creation and how to care for it. After his speech, he prayed and blessed the ground with holy water. We all joined singing a Bengali hymn of God's blessings.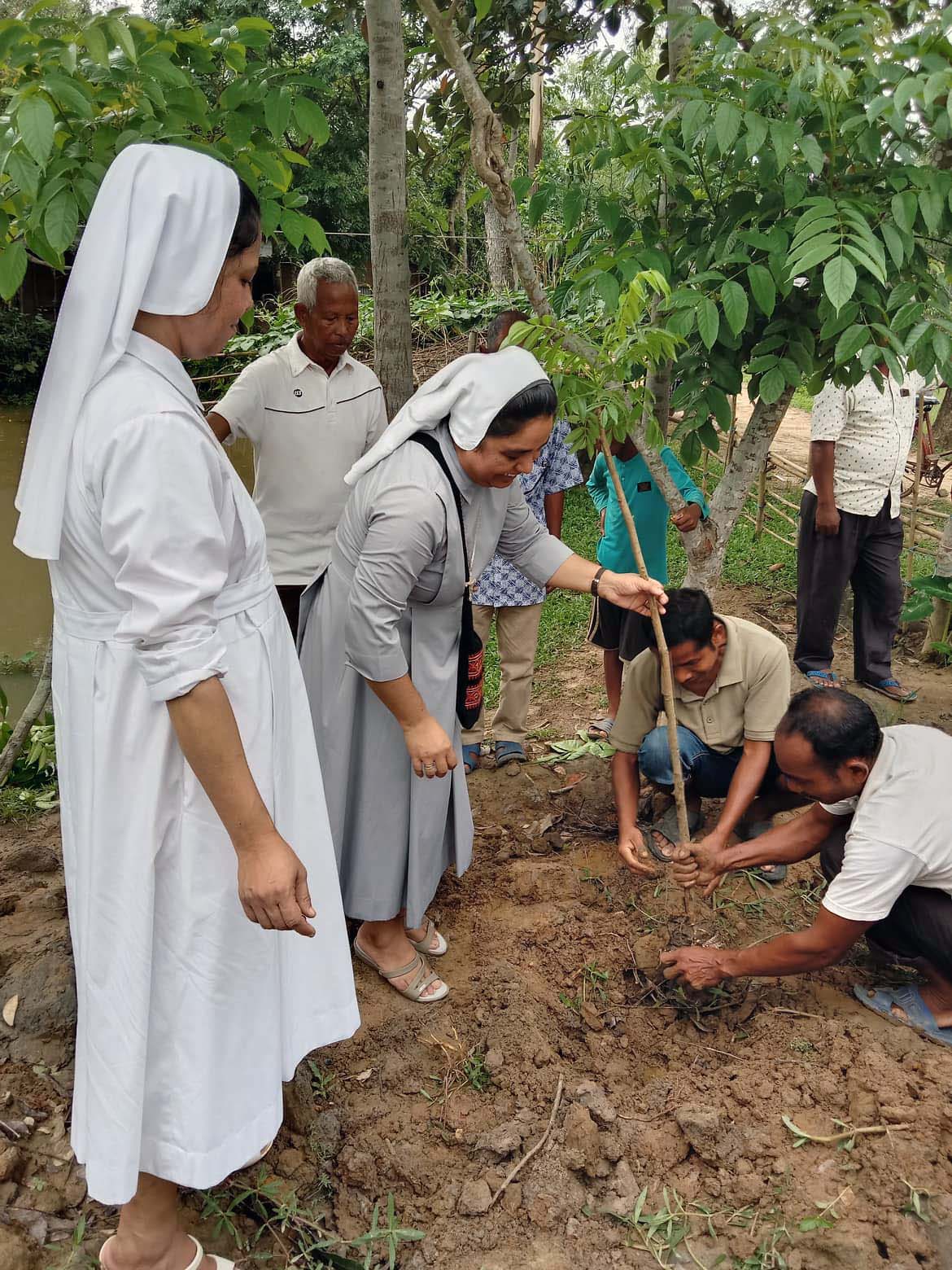 Then, Bishop Ponen dug the ground, broke the soil. Soon after the Sisters and leaders of the village did the same to give an official start for this construction. Bishop planted some mango and Indian goose-berry (known as Amloki in Bangladesh) plants.
Then we had lunch together. After lunch, we had a meeting with the Bishop and Mr. Nurul Amin, the Engineer.
Then we left Gajirvita and reached Dhaka safely at 10:30 pm.